---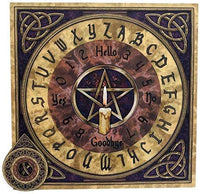 The Ouija Board has been a source of entertainment for more than a century. Players place the game board between them and lightly touch the message indicator with their fingertips.
Size: 15" x 15" x 1/4"
Classic spirit-world game lets you ask questions and get answers
Includes Ouija board, planchette
The Ouija Board is recommended for 2 or more players ages 8 and up.