---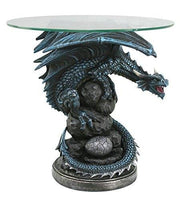 PERFECT SIZE AND SHAPE: Measures approximately 18.25"W x 13.5"D x 22.5"H, this dragon table with its round shaped glass top blends in nicely with your dragon decor and furniture.
QUALITY MATERIAL AND FINISH: Meticulously sculpted by artisans and cast in high quality composite resin, this table is also painted entirely by hand to ensure attention to detail. The pencil edged tempered glass top ensures safety and are able to withstand weight
DUAL PURPOSE DESIGN: This functional table makes a great end table with its height and sturdiness. It is also a stellar decoration, one whose detail will make this little accent a much admired piece of your decor by all who see it! This Roaring Dragon Glass Top Table is the perfect way to take the dragon decor in your home to the next level!
UNIQUE DESIGN: The natural instinct of a guardian dragon is to use its ability to protect its young, especially its eggs before hatching. This dragon table portrays the motherly instinct of the dragon as its egg sits in the middle waiting for its time to arrive in this world. The wings are cleverly designed to hold the glass top so this table can be admired from all angles. The table is also easy to clean.
ONE OF A KIND GIFT: Your friends and family will love to receive this as a gift for any occasion if they are into medieval fantasy items.